Author Spotlight: Staci Hart
Writer Staci Hart
May's Spotlight Author is Staci Hart the self- published author of The Good Gods series. Deer in Headlights is the first book in the series. I wasn't expecting to like DIH but writer Hart's writing made the characters. What worked in adaptation "the gods" weren't haughty and imposing as the have been portrayed in many other adaptations. There are in more down earth and relatable thus making the read more enjoyable.
Links:
Twitter | Facebook | Goodreads | Website
---
More about the writer behind Deer in Headlights
Staci Hart says, "I didn't know I was a writer until recently. Like, so recently that I'm not even going to tell you how recent". She's been a lot of things up to this point in her life – a graphic designer, an entrepreneur, a seamstress, a clothing and handbag designer, a waitress. Can't forget that. She's also been a wife and a mom; she has three little girls who are sure to grow up to break a number of hearts. She's commented on not being the best home maker or cook. She's also super, duper fun at a party, especially if she's been drinking whiskey. Her favorite word starts with f, ends with k, and there a uc in there. Just saying. From roots in Houston, to a seven year stint in Southern California, Staci and her family ended up settling somewhere in between and equally north, in Denver. They are new enough that snow is still magical. When she's not writing, she's sleeping, cleaning, or designing graphics. But let's be honest, she's mostly writing.
Staci loves music throughout the process of writing DIH she built a massive playlist on Spotify which she shares and is posted in the journal section (side bar) of her website. Staci starting writing because loves books and reads on average 3-5 books per week (with the exception of Game of Thrones. Talk about a commitment.). She's read a lot of paranormal romance. A friend asked  her once what she would write about if she ever did. Staci mulled over the question for a few days, and over the next few days she thought about it…and it came to her, like so many good ideas do, lying in bed attempting to sleep (I have this problem as well).
Greek Mythology.
Staci loved Greek Mythology. The gods are just so dramatic. They're relatable because they're so emotional. And they've got a huge cast and construct set up.
So, step one – find something she was interested in – CHECK.
Step two was figure out what the hell they'd be doing. And she decided – she was going to write her favorite book. Which must include:
Fun. It has to be fun and easy to read. (check)
Characters. Characters are everything, and if she could give you characters that you love…well that's the goal. (check)
Modern. Everything is set in modern times with young, beautiful characters that aren't (too) annoying. (check)
Happy Endings. Because she loves happy endings. (check)
Staci and  brother- in-law sat for hours talking about plot, how it would all unfold, how a series would go (because it was always intended to be a series). Learning who the characters were, what they wanted, and how they get what they want and learn a little something about themselves along the way. Now haven completed the first book in the series I'm looking forward to Book 2. Her writing style flowed like a conversation, it was fun, the characters were believable and as I read I didn't feel the pasting of time. The mark of a good book.

— Staci Hart 
But – let's be clear. I'm no expert. This is my first novel. I'm having a ridiculously good time writing it, and I'm learning a ton. My grammar is not perfect. I'm self publishing because I'm impatient and I believe in what I'm doing. I'm NOT trying to be John Steinbeck, 'kay? I'm just a nerd who loves books and wanted to write something that I thought would bring a few hours of enjoyment into your life.
And with that, I hope you check out the book, that you laugh out loud a few times, and that you want to give the characters a hug. Or a high five. Or a swift kick in the nuts (ahem, Ares). Be sure to find me on goodreads, facebook and twitter so we can stay in touch.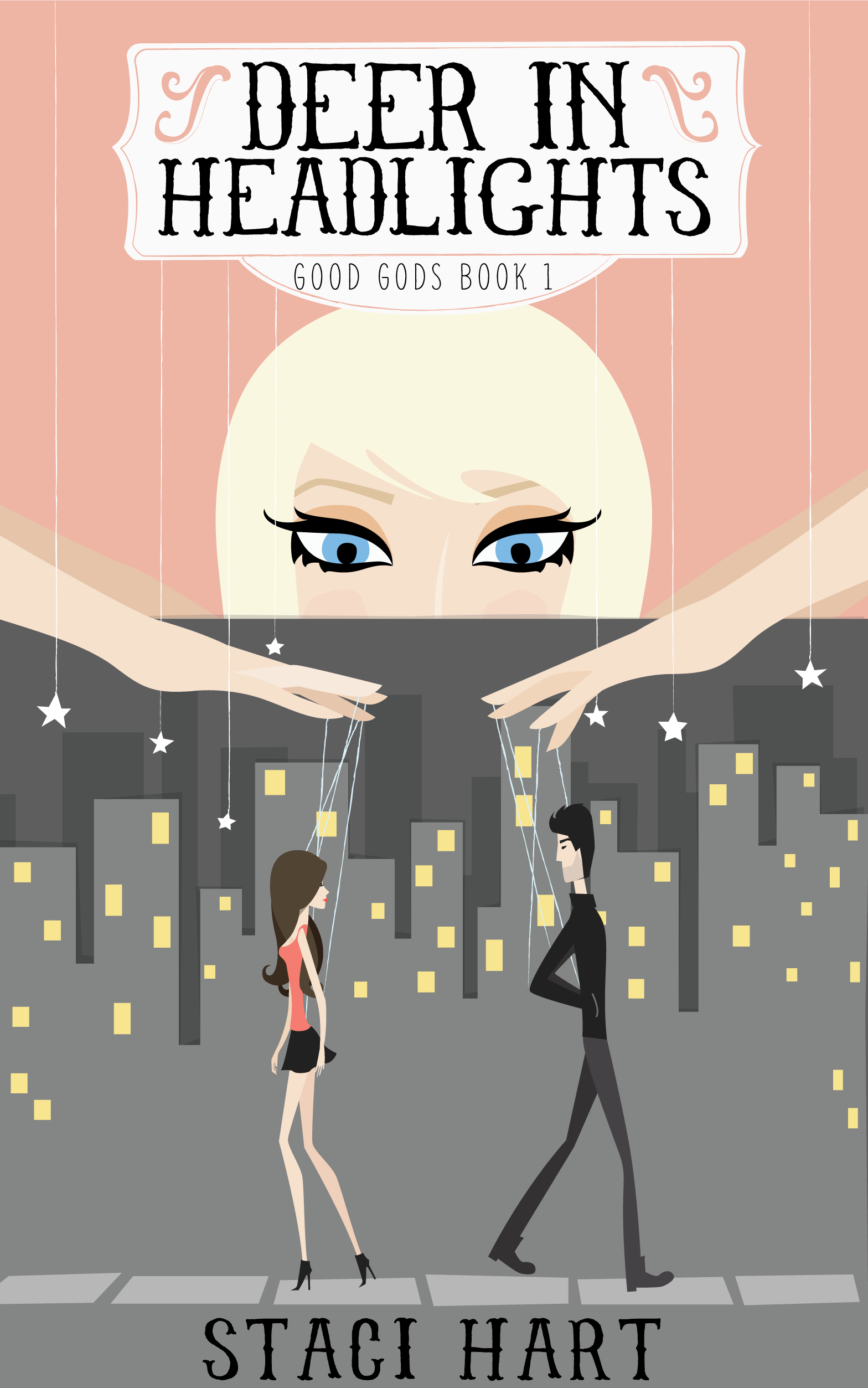 Deer in Headlights
Available Now: