The Elephant of Surprise by Brent Hartinger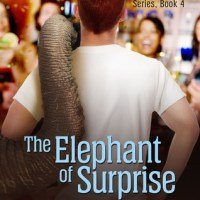 The Russell Middlebrook series was a pleasant surprise. I was caught off by the forth wall style storytelling. Raw and engaging that  often breaks the fourth wall through out the story  talking directly to its audience, the reader. Which was something I've only seen in movies and television shows. I also liked the fact that you didn't need to read the other three books in the series to be caught up. If this was your first encounter with the series like it was mine.
This is the point in the review where I prattle on about what I loved, liked and didn't. The good news first. Russell the main character though a little naive has a strong voice. Wide eyed enough to move through his experiences with humor a cautious wonder. Writer Hartinger's writing was excellent and his descriptions drew Russell's world around and inserted them in the reader imagination. Which I had a lot of fun picturing some of the scenarios in my head, always a plus there. His delivery of humor as the vehicle allowed one to relax and absorb the story.
Loved the format of this book especially the IM chats and seeing the characters handles. Friendships between Min, Gunnar, and Russell is precious, they love and support each other. A each bring something to the relationship, and though I loved reading it. There were moments when friend power wasn't plausible e.g breaking into your girlfriends house to find evidence she's cheating on you. I love the friends I have but I don't see myself committing breaking and entering for such a reason. Russell's crush on Wade was just "fishy" from the start so I wasn't heartbroken when things turned out the way they did. I found myself wondering  more about Kevin and Russell together wanting to see them interact more. A nod to the social issues addressed be it lightly homelessness, being gay and young as well as the environment.
---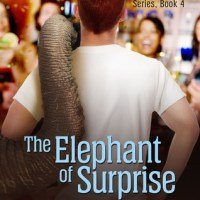 Title: The Elephant of Surprise by Brent Hartinger
Series: Russell Middlebrook (# 4)
Published: March 30, 2013
Publisher: Buddha Kitty Books
Genre: Romance (GLBT)
Rating: 4/5
Source: Netgalley
Format: Paperback (eBook)
Pages: 239
Buy: Amazon
So discovers seventeen-year-old Russel Middlebrook in The Elephant of Surprise, a stand-alone sequel to Brent Hartinger's landmark 2003 gay young adult novel Geography Club (which has now been adapted as a feature film co-starring Scott Bakula and Nikki Blonsky).
In this latest book, Russel and his friends Min and Gunnar are laughing about something they call the Elephant of Surprise — the tendency for life to never turn out as expected. Sure enough, Russel soon happens upon a hot but mysterious homeless activist named Wade, even as he's drawn back to an old flame named Kevin. Meanwhile, Min is learning surprising things about her girlfriend Leah, and Gunnar just wants to be left alone to pursue his latest technology obsession.
But the elephant is definitely on the move in all three of their lives. Just who is Wade and what are he and his friends planning? What is Leah hiding? And why is Gunnar taking naked pictures of Kevin in the shower?
The Elephant of Surprise includes Hartinger's trademark combination of humor and romance, angst and optimism. Before the story is over, Russel and his friends will learn that the Elephant of Surprise really does appear when you least expect him—and that when he stomps on you, it really, really hurts.